Gold coins of Switzerland 1851-2022
Gold Coins of Switzerland is a new type of price guide and catalog.
The numismatic market is evolving and NGC and PCGS authenticity and grading certification services have become essential for all coins whether of great rarity or
high quality.
This new guide book lists and values, according to their certified grades, all the gold, platinum and palladium coins of the Swiss Confederation and Liechtenstein. It indicates as well the current total populations for coins certified by NGC and PCGS.
Available in French, English and German. Price : 25 CHF / EUR / USD + shipping. Contact us to place an order.
Antoine Bovy & le Franc Suisse (Antoine Bovy and the Swiss Franc)
This catalog was written for the exhibition that took place at the UBS bank in Geneva in 2015 and at the Edmond de Rothschild bank in 2016. It presented the documents and objects created by Antoine Bovy, that gave birth to the first coins of the Swiss Confederation, and whose designs are still used on today's circulation coins.
The original drawings, the sculpted plaster models and metal patterns of the coin sides, the unissued proofs and the final coins are illustrated and described in the catalog.
This work was awarded the 2016 Jean-Paul Divo Prize by the Association of Swiss Professional Numismatists.
Following its publication, we collaborated with the Swissmint to create new dies for the 1/2, 1 and 2 franc coins in 2019, based on the original plaster model created by Antoine Bovy. This collaboration was the subject of an article by Hanspeter Koch in the Gazette Numismatique Suisse, Cahier 276, page 106.
L'or de la Suisse (Gold of Switzerland)
This catalog presented the second part of the exhibition which took place in the UBS bank. All types of gold coins of the Swiss Confederation were illustrated and studied in detail.
The first proofs, then the circulation coins as well as the commemorative coins, including the shooting coins, with the history of Switzerland were presented. Both catalogs are available in our store or can be ordered.
Numismatic Articles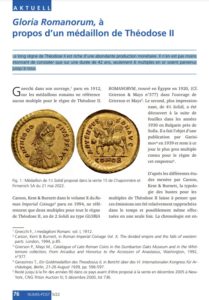 • NumisPost 05/2022 : Gloria Romanorum, à propos d'un médaillon de Théodose II